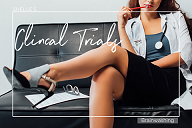 Domina Shelle owns you and controls you, forever. Where have I heard that before? ~giggles~ Are you feeling better trained and conditioned with every passing week, My subject, with an insatiable need to surrender? I want to thank you for coming back this week to measure just how well your subconscious mind is doing with another round of My Hypno Clinical Trials. Make sure to REGISTER to receive your TRIAL results for these erotic hypnotherapy clinical trials. I will be posting MORE info on what you will do next with My CLINICAL TRIALS. This is an ONGOING study that will help Me plan your future under My control.
The purpose of the Trial is two fold: to evaluate how effective My femdom hypnosis sessions are on your subconscious mind. And secondly, I am giving you this opportunity to give your feedback on your state of mind so I can personally adapt My training and erotic hypnosis conditioning to your personal needs. No worries. As a preeminent psycho-analyst I know the inner workings of the submissive mind. And today I can test things out on you, slave 624, as your blind trust helps Me get truthful results.
All I need is for you to relax and allow Me to conduct My erotic hypno experiment and to bring paper and pen, to write down your answers to My questions. There is no need to give you any major hints. I will tell you this, you will become very relaxed, very excited and highly aroused, as the trial proceeds. Trust Me, My sweet subject, this is going to be a lot of fun for both of U/us. Just settle back on My white leather couch and let U/us begin.
***you must OBEY all of My INSTRUCTIONS in the Clinical Trials session.
UPDATES
In my ongoing plan to take over complete control of your life, I have something special for you next week. you know My THOUGHT FOR TODAY that I share with you. I am indoctrinating you into what to think, what should be your priorities for action, and what state of mind I think will make you better for Me. I want to do a recording of only Thoughts for the Day and I want you to help Me with the recording. So next week, I'll have an Assignment to send Me TWO THOUGHTS that you most want to hear Me telling you. More details next week.
My contracted slave knows there is a Daily Thought on My special website, slaveforshelle (SFS). If you think you may be ready to explore a deeper commitment to your Domina, then contact Me with your interests.
Patience and eagerness to serve are good qualities for a FinDom slave.
NEXT WEEK
Next week is My contracted weekend and something for My sissy pet hypno gurls. Also, an assignment for Thought for Today.
My special deals this week:
Latex Oblivion —
My luscious latex leaves you bound and begging for more… (giggles)
Dark Room – Warped Mind —
Twisting your reality until your warped mind slides ever deeper into My dominion…
A Sissy's Double Jeopardy —
Put on your favorite pink panties and prepare to get all wet for your Domina…
Double Jeopardy —
A trance within a trance…you are in double jeopardy.